Here at Healing Touch Chiropractic, we take a natural approach to pain relief, healing, and injury recovery. Through educating our patients and providing them with a range of modalities that are tailored to their symptoms and wellness goals, our entire team is dedicated to helping you improve your whole-body health.
Personalized Chiropractic Care and Natural Healing Methods
We believe your health and wellness are of the utmost importance. But when you're in pain and discomfort because of an injury, a musculoskeletal condition, or a common health problem, it can be challenging to maintain a good quality of life. Pain, limited mobility, and reduced nerve function can keep you from doing the things you love most, which can negatively affect your emotional and mental wellness. That's why we're passionate about finding personalized solutions to help you get back to living your life to its fullest — free of pain and with better mobility.

At Healing Touch, we believe there is no "one-size-fits-all" approach to healing and pain management. During your consultation, your chiropractor will go over your health history, injury history, and other aspects of your health and wellness background in order to determine the best treatment for your specific needs and symptoms. While we specialize in personal injury and auto injury treatment, we treat a wide range of symptoms, injuries, and conditions. These include, but are not limited to:
Auto injuries

Whiplash

Sports injuries

Work injuries

Personal injuries

Neck and back pain

Strains/sprains

Chronic pain conditions

Headaches and migraines

Prenatal and postnatal care

Shoulder pain

Sciatica

Lower back pain

Hip pain

Knee pain

Carpal tunnel syndrome

Fibromyalgia

Herniated/bulging discs

Pinched nerves

And so much more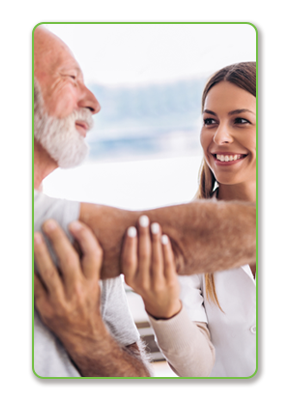 Your chiropractors in San Jose and Evergreen focus on improving disorders of the musculoskeletal system using a hands-on approach delivered through chiropractic adjustments (manipulations). By restoring and improving the healthy function of the spine, central nervous system, and hard and soft tissues in the body such as the joints, patients can experience natural pain relief, increased mobility, a fuller range of motion, and more comfortable movements when performing everyday activities. 
Rather than simply treating the symptoms, your chiropractor seeks to target and treat the root cause of your symptoms to facilitate optimal healing. Not only is chiropractic ideal for stimulating the body's natural healing abilities for quicker, more efficient healing, but it can also strengthen the immune system, as well as your whole body health. Chiropractic is safe and effective for patients of all ages, and provides natural pain relief without undergoing invasive surgery or relying on prescription pain medications that only mask the pain.   
---

Your chiropractor may implement electrical muscle stimulation (EMS) into your care. EMS sends small electrical currents to help heal soft tissue injuries, muscle spasms, and treat both acute and chronic pain. This therapy can effectively reduce muscle tension, tightness, swelling, and can even release trigger points that accompany injuries. What's more, muscle stim triggers the release of the body's natural pain relievers called endorphins to reduce pain and facilitate quicker healing. This treatment is ideal for large soft tissue areas in the back, buttocks, and thighs, as well as smaller areas in the neck and extremities.
---

Your chiropractor may implement spinal decompression as part of your chiropractic treatments to reduce pressure on the discs of the spine. Spinal decompression therapy is tractioning and stretching the spine in a controlled, mechanized fashion using a specialized table, or using non-mechanized traction equipment. Focus areas typically include the neck and the lower back, but in some cases, the upper and mid-back. 
The goal is to stretch the spine over time through a series of treatments to reduce pressure from spinal discs — the squishy material that functions as a cushion between each of the spinal vertebrae. When discs are compressed, usually the result of a spinal injury or degeneration caused by age, the squishy matter protrudes from the hard spaces of the spinal column. When this happens, the compressed disc can aggravate nearby spinal nerves, which causes localized and radiating pain, limited movement, and reduced nerve function. Spinal decompression reopens the spaces between the vertebrae to eliminate irritation on the nerves and thus, eliminate the source of your pain.
---